Menu
Biography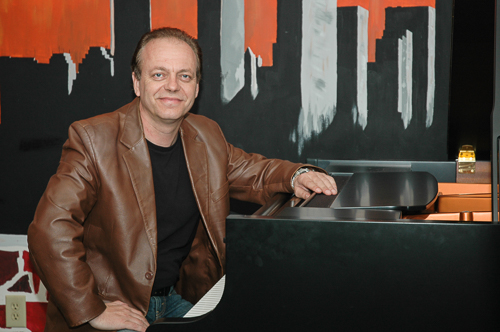 Born in London, England, Alan comes from a family of entertainers. His father, a gifted pianist who, among his other achievements, played on radio during the second world war; his mother, a contortionist and one half of a "yoga act".
For years, his father attempted to force the reluctant student into playing the piano, but, being a hard task-master, it put him off until, at the age of twelve, he picked up the flute and began studying music in earnest.
From the flute, he went on to the saxophone as his main instrument and, after being accepted into the British Parachute Regiment as a bandsman, he started his musical career.
After some years serving his "apprenticeship" working the clubs and functions around London, he started being hired for work on Ferries leaving England, session work in recording studios, and then progressed onto cruise ships for a cruise line based in Piraeus, Greece.
In 1986, he finally granted his father his wish and transferred onto piano/keyboards full time.
The next twelve years saw him working as a musician on various cruise lines - variously cruising the Mediterranean, the Caribbean, and the baltic states, and many trips to America during this period.
In between ship "gigs", he would take residencies in hotels abroad, and this included a long residency at the "Forte Grand Pyramids" in Giza, Egypt.
In the year 2000 he moved full time to America, settling in Savannah, Georgia. Six years later, family circumstances dictated another move and he chose for his home, the beautiful little town of Dahlonega, Georgia. Nowadays, he splits his time between Atlanta and Dahlonega.